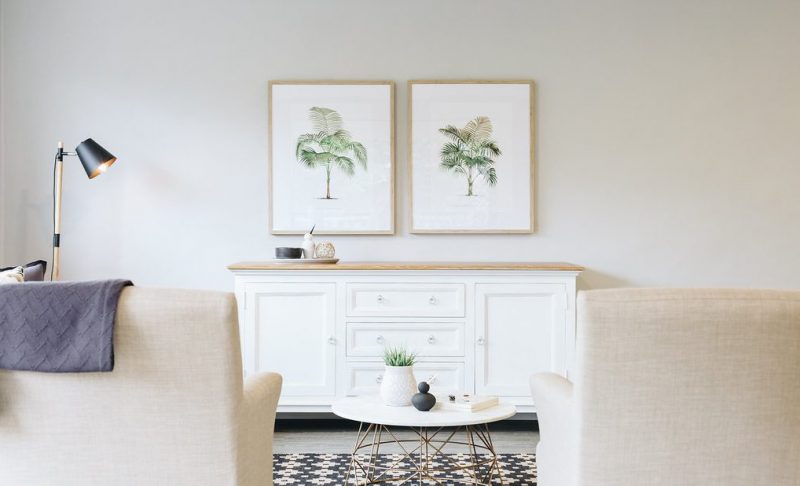 Apr 09
Wall Art Doesn't Need To Be Expensive
Decorating with wall art is often left as the last task, or sadly forgotten about after outlaying most of your budget on furniture and homewares. But wall art doesn't need to be expensive, or come from a gallery that only high-brow people visit. There is art out there for everyone, suitable for all tastes and budgets.
Art is the one element that can help convey an individual's style and tell a story about the home owner. It can also be used to set a theme for each space in relation to colour, mood and story. One piece of art can create a sense of drama and make a room feel more complete. Sometimes it's the easiest place to start with, designing a room around the wall art. Once you have identified colours and a mood, you can then consider picking up these colours in cushions, floor rugs and décor to help connect all the elements for a harmonious space.
But what should I go for? Abstract, impressionist, contemporary, pop art, portrait, photography and the list goes on. Go for what speaks to you. Art is truly subjective, and whether you are feeling calm, happy, sad, reflective or inspired, it should ultimately evoke an emotion from you when you look at it. It's something that you will have the pleasure to look at every day, so find something that you connect with rather than buying for others.
How to hang your wall art
Picture hanging rail systems can turn your entire home in a gallery space for hanging art. If you have the option to paint your walls, use some magnet paint and turn your wall into an entire magnetic board. In a rental and unable to drill some screws in? Have no fear, it's now possible with a few 3M hooks to hang artwork up to 7 kgs in weight. Consider canvas prints or frames that are lighter in weight to be on the safe side.
Where to hang your wall art
An important consideration is the placement of your artwork. A common mistake is to hang artwork too high. Keep artwork at eye level to avoid making your room appear much smaller than it is. A rough guide is to hang your art so that the mid-point of the frame is 145-150cm from the floor.
If your walls are higher than 2.5m then you can adjust your art to be higher than 150cm from the floor. If your art is over 3m tall, then disregard the mid-point and just try to keep at least 30cm from the floor. Try to keep as much consistency as possible when hanging numerous pieces in the one space.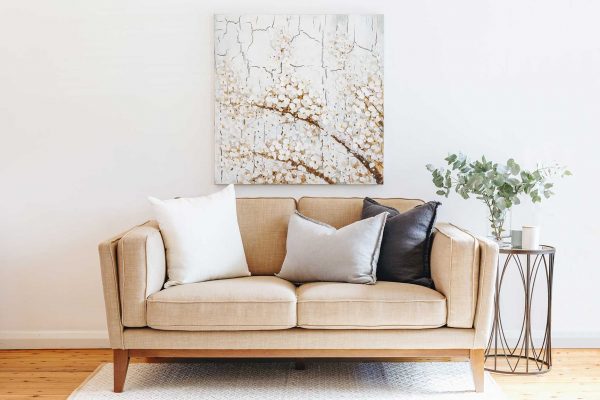 When hanging art above a furniture piece such as a sofa or bedhead, leave roughly a 20-25cm clearance. You will want enough space so that the artwork does not feel overcrowded but at the same time visually connected to everything around it. Consider the width of the art too; for perfect proportion and balance, artwork should be roughly two thirds the width of the sofa, whether this is one piece or a set.
Artwork doesn't need to be hung
Create the perfect backdrop for decorating a sideboard, console or buffet by leaning your favourite piece of art against the wall instead. Use it as the hero object, then cluster a few objects in front and around the piece to add more depth and layers.
Need some inspiration?
Click through the below slideshow to view some of our latest wall art currently in-store and coming soon to SHACK. For enquiries and availability, contact your closest SHACK store location.
Framed Crane & Wild Crane Prints $195 each
Beautiful wild swans in a soft pink and blue palette creates a sense of tranquility and peace. 
Whimsical Oil Painting $220

Take a breath and enjoy the soft whimsical nature of this blossom wall art. 
Paper Birds I & II $235 each
Can you hear the sweet songs from this gorgeous pair of paper birds? Be uplifted by this vibrant set of two birdy prints. 
Framed Antique Protea on White I & II $795 each
Australiana inspired flora to reflect and enjoy beautiful nature at home. 
Oil Painting White Wash Flowers $345

This large piece will take centre stage with it's appealing white wash neutral colour scheme.   
Les Palmiers on White II & IV $285 each

Think sunny days and soft breezes with this island paradise palm print. 
Tropical Mix Leaves & Monsteria Mix Leaves $130 each

Escape to the tropics with this cool pair of  lush tropical leaf prints.
Rikitea Black Palm Print $265

This textured, natural and timber frame palm print, will have you daydreaming of California sunsets in no time. 
Vintage World Map $230

Search this world map for inspiration as you plan your next holiday adventure. 
Natural Tranquil Coppice I & II $295 each

A time for some serious contemplation as you set your sights on this moody pair of prints. 
Oil Painting 20 Squares $165
Find harmony and uniformity in this blue and grey Moroccan inspired tile art print. 
Seaweed Specimens I & II $320 each
A new take on coastal style, with these beautiful and almost abstract views of seaweed. 
Canvas Vintage Coral $69.95 
Dive deep into oceanic blues with this calming piece of coral wall art.
These articles may also interest you